Educational Information
"What's Behind My Symptoms?" Infographic
A downloadable resource that illustrates the key symptoms of Lambert-Eaton myasthenic syndrome (LEMS) and two forms of myasthenia gravis (MG). The infographic explains how the disorders are similar but also points out key differences that may help you tell the difference between LEMS and MG.
Seronegative MG Flashcard
A downloadable resource that explains what a seronegative MG diagnosis is and why it should prompt your doctor to do an antibody test for LEMS.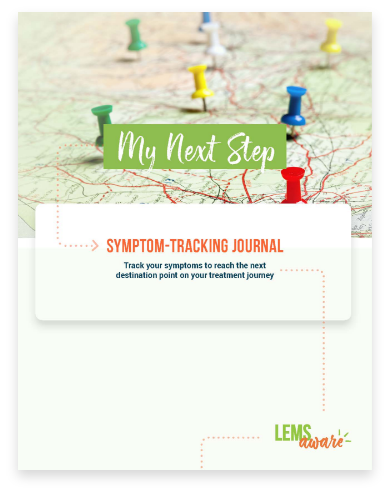 "My Next Step" Symptom-Tracking Journal
A downloadable resource that allows you to track your symptoms, your response to treatment, and your overall health and well-being on a weekly basis. The journal also features information that can help you recognize signs of LEMS and guide you on the path to proper diagnosis, treatment, and a better tomorrow.
Helpful resources on this site
See where LEMS symptoms may appear on the body using the
LEMS Symptom Map.
Discover insights that may help you stay mobile among the
Lifestyle Modifications.
Connect with other members of the LEMS Aware Community on our
Facebook page.
Stay informed
Sign up to stay in the loop with the latest news and information about Lambert-Eaton myasthenic syndrome.